FHHS Alumni Association
Alumni Years 1963 - 1988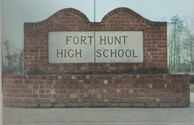 ANNOUNCEMENTS
---
FHHS/FLORIDA REUNION 2015 - Friday, March 13th from 2:00pm - ?

Lou's Blues Restaurant/Bar
3191 Florida A1A
Indialantic, FL 32903
Phone: 321/779-2299
http://www.lousbluesupstairs.com/

Karaoke from 5:30pm to 9:30pm
Live music with the band "Katty Shack" from 9:30pm to 1:30am
(looks like mostly 80's music) PERFECT!!
---
New site feature: EVENTS! We can now create events, track rsvps, and even sell tickets through this website! This tool is for less formal events not specifically related to class reunions. Setup is limited to administrators, but please feel free to inquire if you have an alumni-centric event coming up! Check out the Sample Event.
---

Please help us locate missing classmates!
---
To Fort Hunt High School alumni, faculty and staff, family members, and friends:
Although our beloved high school is renamed and repurposed, FHHS will exist forever in our hearts and minds. We represent our old alma mater through our communal thoughts and memories; collectively reconstructing an institution stronger than the physical structure could ever be.
Our school was only in existence for a mere 22 years. Twenty-two. Amazing. Years. Our parents and faculty--indeed, our whole community--produced an oustanding collection of entrepreneurs and leaders among our graduates and we continue that course, today, through our children and grandchildren.
Sadly, however, our school's alumni numbers will shrink with the sands of time, but our achievements should not fade or be forgotten. By welcoming family and friends of FHHS as members of our association, we enable our legacy to live on through those who share our vision. In particular, community programs and sponsorship awards, that we establish and maintain, will have an opportunity to continue and possibly even grow and flourish. Indeed, the Federals' spirit will live on through this alumni association!
Please join me in welcoming all members who have chosen to participate in nurturing the history of this great school! ~Terry
---
To family and friends of FHHS who wish to join our alumni association: in order to expedite the verification process, please have a current registered alumni or faculty member sponsor your membership by emailing, on your behalf, your name and contact information to the website administrator. Thank you!
---
"From the Hearts of the Federals to the Students of Today"
In June of 2013, the Fort Hunt High School Alumni Association awarded its first annual FHHS Alumni Educational Award to a deserving, college-bound West Potomac High School student, Anna Soyka. Anna was headed to James Madison University and was the lucky recipient of our very FIRST award.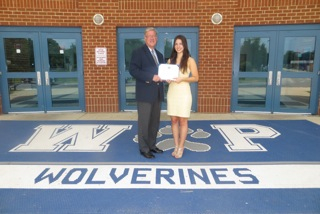 This June 16th, three (3) West Potomac High School students were presented FHHSAA Education Awards:
Briana Simone Dessaure – Headed to University of South Carolina
Shelbi Pullen – Attending Christopher Newport University in the fall
William K. Lescher, Jr. - University of Pennsylvania
This awards program is sponsored by the Fort Hunt Federals, through their generous donations. The money is from the hearts of the Federals to the students of today.
---
FHHS Merchandise Store -- We have FHHS swag for sale online at Cafe Press!!!
---

Passwords are required to view certain pages in the left-side navigation links. In particular, those pages to which alumni contribute private content -- such as photo galleries and forum discussions. Registered site members must LOG IN in order to view protected pages.

Please note that the level of personal privacy is set by the individual member for his or her Alumni Profile page (please review this FAQ for more on profile privacy...)
Welcome to the Fort Hunt High School Alumni Association!
Your one-stop site for all your Federal needs!
Welcome to the Fort Hunt High School Alumni Association website! Please have a look around this site, update your contact information, check out your classmates' profiles and pictures, drop a line in the Federal Forums, and peruse fun historical facts, photos & music from our many good ol' days!
OUR MISSION
To foster, promote and maintain the spirit of Fort Hunt High School by serving as a central source of information about the school, its alumni, faculty and former students, to maintain this website (http//www.fhhs-alum.org) and to promote regular reunions of alumni, students and faculty members. In addition, the association will conduct a scholarship program to deserving, college-bound seniors at West Potomac High School.
All alumni are encouraged to register and log in. Please read the HELP / FAQs page for instructions and other important information. Many pages on this website are still "under construction". Please bear with us as we add and streamline the content on these pages. To that end, your suggestions are welcome HERE. Please let me know if you enjoy writing or editing and wish to contribute to this website! I will graciously accept all help with keeping it interesting and professional. ~Terry Kinder (Alers), '79
Click the Play button (>) below to hear the Federals' fight song performed by the Fort Hunt Marching Band, as recorded by Mr. Joe Neigh and later digitized by Sharon Fitzgerald Weisner for Celia FlorCruz.
What happened to the "Hits of 1963-1985"
Playlist
music player?
"Sadly on July 1, 2013, the record labels required us to shut down the original Playlist service..."
If you would like to hear FHHS Band recordings from the award winning 1972 Vienna competition, click the
play button
in the player linked here:

TOP