FHHS Alumni Association
Alumni Years 1963 - 1988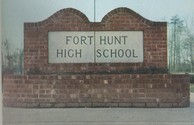 In Memory
Augusta C. Adams (A. P. English And World Literature, Ret. 1976)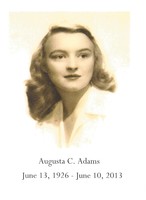 AUGUSTA CRUMP ADAMS
Augusta Crump Adams, beloved wife of Col. Samuel Brown Adams USAF (Ret.), died peacefully in her sleep Monday morning, June 10, 2013 after a long illness. She is survived by her husband, three daughters, three grandchildren and two great grandchildren.
Augusta will be remembered by those who attended Fort Hunt High School (now Carl Sandburg Middle School) in the 1960's and 1970's as a highly regarded teacher of A.P. English and World Literature, as well as the Chairman of the English Department. She retired in 1976.
Augusta was born in Greenville, Mississippi, in 1926, the daughter of Brodie and Mary Augusta Crump. She attended Goucher College in Baltimore, MD, and received an M.A. degree from Penn State.
The funeral will be held at 2:30 p.m. in the Fairfax Chapel at Fort Belvoir, VA, on Sunday, June 30, and will be followed by a reception at the Fort Belvoir Officers' Club. The Fairfax Chapel is located at 5675 Mt. Vernon Road (next to Flagler Hall). In lieu of flowers, contributions may be sent in her name to Saint Augustine Church, care of Rev. Will Wilson, 43723 Birch Manor Terrace, Ashburn, VA 20147.

Published in The Washington Post on June 14, 2013
---
Source: Legacy.com