FHHS Alumni Association
Alumni Years 1963 - 1988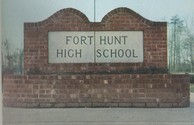 In Memory
Mary D. Nelson "Madame Nelson"
Mary D. Nelson [Madame Nelson to us] was born Sept. 6, 1913, to David Phillip Thomas and Anna Davis in Samaria, Idaho.
After graduating from the Holy Cross Hospital, as a nurse, she married Howard Brim Nelson Sept. 20, 1936, in Salt Lake City, Utah.
Howard was a pharmacist and in 1937 was commissioned in the U.S. Army. Life in the service made traveling around the world possible.
Their first tour of duty was Denver, Colo., where their son Howard Thomas was born. Then they moved to St. Louis, Pennsylvania, New York, Virginia, France and back to Virginia and in 1993 Mrs. Nelson came to Washington, where she built her home.
In France her love for the French language blossomed. Returning to Virginia, she received a bachelor's degree in French literature at George Washington University and taught high school French in Fairfax, Va.
She also received the diplome superieur from the Sorbonne, Paris, and a master's degree in foreign language methodology from Brigham Young University.
Mrs. Nelson had been asking her family and friends to pray her home. On May 6, 2010, at age 96, her prayers were answered and she is now with her beloved Howard Brim, her family and friends.
Mrs. Nelson loved, encouraged and enjoyed her 13 grandchildren, 52 great-grandchildren . . . and still counting. They are her posterity from her only son Howard and his wife Elna Austin Nelson.
The entire Nelson family wishes to thank church members and people in the community who made it possible for Mrs. Nelson to remain in her home as she planned.
A viewing will be held from 9-10:45 a.m. and the funeral will be at 11 a.m. Saturday, May 22, at the Church of Jesus Christ of Latter-day Saints, in the Washington Ward chapel, 110 E. 14th St., in Washington.
In lieu of flowers memorials to Mrs. Nelson's foreign language scholarship fund, UVU Foundation, Inc., Howard B. and Mary D. Nelson Endowed Scholarship Fund, 800 W. University Parkway, Orem, UT 84058 are preferred.
---
Source: Ancestry.com via The Missourian



Friend, Grant Skabelund, delivered these remarks at Madame Nelson's funeral.