FHHS Alumni Association
Alumni Years 1963 - 1988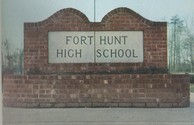 ANNOUNCEMENTS
---
Our 2022 Fort Hunt High School All-Class Reunion Weekend will be held Friday, September 30th, Saturday, October 1st and Sunday, October 2nd. Please SAVE-THE-DATE and join us for three days of fun! See you in the fall!
It's 2022, and that means that this is a Milestone Year for Classes of '67 (55th), '72 (50th), '77 (45th), '82 (40th), and '87 (35th) this year!
Weekend Reunion Activities:
Friday, September 30, 7:00 pm: All-Class Get-Together/Ice-Breaker, The Fish Market, Old Town
Saturday, October 1, 11:00 am - 1:00 pm: Tours of Fort Hunt High School (now Carl Sandburg Middle School)
Saturday, October 1, 1:00 pm: Program at Fort Hunt HS Memorial Garden, Carl Sandburg Middle School
Saturday, October 1, 6:00-11:00 pm: Class of 1972 Reunion Party, Old Dominion Boat Club. Other classes having separate reunions as well, details still coming in.
Saturday, October 1, 7:00 pm: All-Class Get-Together, Chadwick's, Old Town Alexandria
Sunday, October 2, 12:00-5:00 pm: All-Class Picnic, Fort Hunt Park - Bands, Food, Photos, Prizes
----------------------------------------------------
The Fort Hunt High School Class of 1972 Organizing Committee invites you to our
50th Reunion Party!
Saturday, October 1, 2022
Old Dominion Boat Club
200 The Strand St. Alexandria, Virginia 22314
Time: 6:00 – 11:00 pm
• $95 per person (Deadline for registration is August 1, but sooner is appreciated!)
• Evening Events: Heavy hors d'oeuvres, Cash Bar, Music, Dancing, Photo Show, Memorabilia.
• Attire: Smart Casual
------------------------------------------------------------------
SIGN-UP SHEET for FHHS '72 REUNION PARTY AT OLD DOMINION BOAT CLUB
Class of 1972 50th Reunion Party Reservation: $ 95 per person Amount enclosed: $______
Name(s) (maiden name, if applicable): ____________________________________________
Address: ____________________________________________________________________
Phone number: ________________________
Email address: _________________________
Mail this form along with your check (payable to: "Federals Class of '72 Reunion") To James Turner 128 South Royal St. Suite 200 Alexandria, VA 22314
Jamie requests that you write your email address in the memo section of the check.
For payment questions call Jamie at 703-836-3400 or jturner@vtwlaw.com or Kelly (Myatt) St.Clair 703- 309-4977 kellymstclair@gmail.com or Carl Koons 540-903-0605 CEKPGA@aol.com
Your Class of '72 Organizing Committee,
Reamer Argo, Sallie Davis Kerr, Toni Hoover, Kelly Myatt St.Clair, Carl Koons, Ken Patterson, Jamie Turner and Spooky Morgan
Check Facebook "FHHS Class of '72 50th Reunion" for other details!
---------------------------------------------------------------------
The 2021 FHHS/Scottish Christmas Walk
A huge success this year - our 4th year of participation!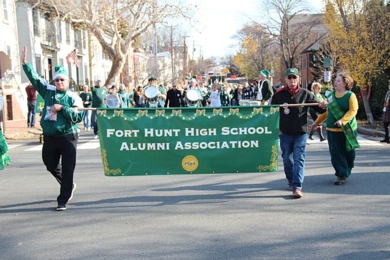 Paul Best ('75) and Costa Manolas ('71) holding banner and Jocelyn Folsom ('79) Photo Credit - Brian Hopkins ('84)
For those who participated (all 130-150 of you!), we thank you! And for those who couldn't make it this year, "The Marching Federals" will march again in December 2022 - exact date not yet set. Join us next year if you can, it is always a lot of fun...and you'll have a whole year to plan!
The Alumni Association would like to send a special "THANKS!" to Kendra Allman ('83) and Costa Manolas ('71) for their overall coordination of the event. Costa handled most of the logisitics and Kendra made a big contribution with her planning, recruiting and especially her energizing the Federals Spirit. Both Costa and Kendra combined efforts to make it a really fun event - and the perfect weather didn't hurt, either.
Thank you to Mike Bagley (Class of '86) for hosting our PPP - Post-Parade Party at his beautiful condominium courtyard in Old Town - just a few blocks from the parade route. Great party!
Thank you to all the others who made the parade so successful;
Nena Kobayashi ('75) - Cheer Squad Coordination
Stanley Wright ('81) - FHHS Football Players & Jerseys (plus interactive play with the parade watchers)
Joan Catalina ('74) & Donna Flynn Batcheller ('77) - Pep Squad Coordination
Jim Erb ('79), Dave Foresman ('80), Jerry Darby (Class of '86) and Rob Calligaro ('85) - Drumline/ Cadence Corps and Hoverboard Surfer
T-Shirts - Pete Samuelson ('82), Mark Mullet ('81), Betsy Mullet ('80) & Jerry Darby
D'Allyn Dugan ('81) & FHHS Class of '81 - Candy, beads, candy bags for the crowd & FHHS Banners
Bob Suggs ('77), Tom Wheatley ('71), Joe Gililland ('73), Mark & Betsy Mullett - Parade Vehicles
Thanks, too, to George Etheridge (Past Band Director) for joining us!
Lastly, thank you to the numerous other volunteers who helped with planning, prep, set-up, take-down and clean-up for the event. The whole day flowed smoothly because of you.
Check the Fort Hunt High School Facebook page for more photos & comments.
These big events don't just happen - it's the Federals that make it happen! So, thanks to all!
Go Federals!
Administrative Notes for The Federals:
As of December 8, 2021, the FHHS Alumni Website has 3589 alumi registered. That means exactly 33.4% of the alumni have registered with us. 1/3 of the Federals signed-up is pretty good, but if you know of alumni friends or family who have not registered, send them the link and tell them to sign-up to enjoy all the FREE benefits of the website. You can check the "Missing Classmates" portion of the website (left side tabs) to determine who is signed-up and who is not.
Is your information up-to-date? Please check and provide us with your current information. Also, if you haven't filled-out your Profile data - now would be a good time. None of your information is shared with any marketing groups and we don't mail solicitations or make phone calls. But the information - including phone numbers - can be helpful to the administration, so please include all your info just in case. We don't want to lose track of you.
Please check the "In Memory" section and provide comments for any deceased alumni that you may have known. These extra, personal comments are really meaningful and help us to know the persons who have passed before us. Also, if you know of alumni who have passed, but are not listed in the "In Memory" section, please let us know. Thanks.
---
Has your email address changed since registering? Having trouble logging into the site?
If you know your password, simply login as you did before, (using your old email address). Once logged in, you can update your Login ID with your new email address by visiting the "Edit Contact Info" page under your MEMBER FUNCTIONS in the left-side navigation.
FHHSAA site notifications have bounced back from more than 400 members' email addresses. Please make sure your info is current and, if prompted upon logging in, follow the instructions to reestablish verification of functioning email address.
---

Please help us locate missing classmates!
---
To Fort Hunt High School alumni, faculty and staff, family members, and friends:
Although our beloved high school is renamed and repurposed, FHHS will exist forever in our hearts and minds. We represent our old alma mater through our communal thoughts and memories; collectively reconstructing an institution stronger than the physical structure could ever be.
Our high school was only in existence for a mere 22 years. Twenty-two. Amazing. Years. Our parents and faculty--indeed, our whole community--produced an outstanding collection of entrepreneurs and leaders among our graduates and we continue that course, today, through our children and grandchildren.
Sadly, our school's alumni membership will shrink with time, but we hope that our achievements will not be forgotten. By welcoming family and friends of FHHS as members of our Association, we enable our legacy to live on through those who share our vision. In particular, community programs and sponsorship awards that we establish and maintain might continue to grow and flourish. Indeed, the Federals' spirit will live on through this Alumni Association!
Please join me in welcoming all members who have chosen to participate in preserving the history and good name of this great school and the Mighty Federals! ~Terry
---
To family and friends of FHHS who wish to join our alumni association: in order to expedite the verification process, please have a current registered alumni or faculty member sponsor your membership by emailing, on your behalf, your name and contact information to the website administrator. Thank you!
---

Passwords are required to view certain pages in the left-side navigation links. In particular, those pages to which alumni contribute private content -- such as photo galleries and forum discussions. Registered site members must LOG IN in order to view protected pages.

Please note that the level of personal privacy is set by the individual member for his or her Alumni Profile page (please review this FAQ for more on profile privacy...)
Welcome to the Fort Hunt High School Alumni Association!
Your one-stop site for all your Federal needs!
Welcome to the Fort Hunt High School Alumni Association website! Please have a look around this site, update your contact information, check out your classmates' profiles and pictures, drop a line in the Federal Forums, and peruse fun historical facts, photos & music from our many good ol' days!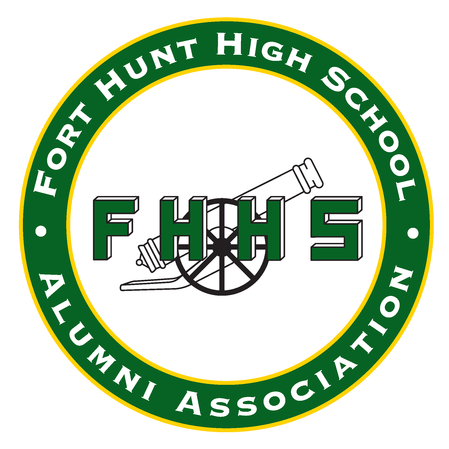 OUR MISSION
To foster, promote and maintain the spirit of Fort Hunt High School by serving as a central source of information about the school, its alumni, faculty and former students, to maintain this website (http//www.fhhs-alum.org) and to promote regular reunions of alumni, students and faculty members. In addition, the association will conduct a scholarship program to deserving, college-bound seniors at West Potomac High School and provide support to the local community.
All alumni are encouraged to register and log in. Please read the HELP / FAQs page for instructions and other important information.

TOP