FHHS Alumni Association
Alumni Years 1963 - 1988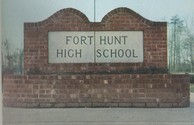 ANNOUNCEMENTS
---
** Postings updated September 23, 2021:
FHHS ALL-CLASS REUNION FOR 2021 WILL BE HELD THE FIRST WEEKEND OF OCTOBER - Friday, October 1st, Saturday, October 2nd and Sunday, October 3rd (All-Class Picnic @ Fort Hunt Park).
We will have our LARGEST group of classes celebrating Milestone Reunions ever: Classes of 1965, 1966, 1970, 1971, 1975, 1976, 1980, 1981 and 1985 will all have Milestone Events!
CALENDAR OF EVENTS - Successfully used for the last 10 years:
Friday night - "Ice Breaker" at The Fish Market in Old Town (early birds arrive @ 5pm, drinks @ 7 pm)
Saturday day:
10 am - 2nd Annual "Tour de Fort Hunt" bike ride sponsored by Jim Faruki. Meet at Fort Hunt Park Area B.
1 pm FHHS Alumni Garden visit with School Tours and Program @1pm at Carl Sandburg Middle School - the old Fort Hunt High School. Engraved Patio Pavers are on display.
Saturday night - Separate dinner events for Milestone Classes, Old Town Get-Togethers for the rest. The Fish Market, Chadwicks, Blackwall Hitch and other bars will have Federals attending.
Sunday, All-Class Picnic at Fort Hunt Park, 12-5 pm, BBQ picnic, live music, class photos & more. Parking is available in Area A, Area B and Area C. Carpooling is appreciated to reduce the number of spaces needed. Drop-off for passengers is at Area A and then proceed to your parking lot. Keep moving from A to B to C until you find a legitimate parking space. On-time arrivals get the best parking spots - PLEASE do not park on the grass or along the curbs. The Park Police will ticket you. Thanks!
Classes of 1970 and 1971 - Combined Reunion Event!
FHHS classes of 1970 and 1971 are hosting a combined 50th Class Reunion Dinner on Saturday, October 2nd, 2021. Reunion Chairmen Donald Wardle ('70) and Costa Manolas ('71) and their committees have combined their efforts to host a two-Class Dinner and Dance at the Westin Hotel in Alexandria. The popular band "The Roadducks" will provide live music. Event is open to ALL CLASSES! See the "Reunion" tab on the left for details. Please join us for a fun weekend and a for a special dinner event for the Classes of '70 and '71 at the Westin Hotel! DEADLINE for registration has been extended to September 15th!
FHHS Class of 1976 45th Reunion - Class of '76 will be having their 45th Reunion in conjunction with the All Class Reunion Weekend, October 1 - 3, 2021. NEW INFORMATION: The Friday Night Event at Cedar Knoll has been canceled. Our Class will gather at the Fish Market instead. All other events are on as planned.  The Steering Committee (Mike Argo, Becky Benoit, Louis Genuario, Mark Luxenburg, and Mark Monroe) .  Please see the "Reunion and Events" tab of the website for details.  They look forward to seeing everyone there!  The registration link is active - so please sign-up through the website. 
FHHS Class of 1980 40th (+1) Reunion -  Class of 1980, will celebrate their 40th (+1) Class Reunion, Saturday, October 2, 2021, from 6pm-11pm, at the Sheraton Suites, Old Town (801 N. Asaph St., Alex, VA  22314).   The class is excited to have from FHHS Class of 1984, Greg Butler aka DJ GL Beatzz, spinning our favorite hits from high school.   It will be a Reunion Celebration like No Other!  Go to www.fhhs80.com and click on 40th Reunion tab to register.  See you there!  
FHHS Class of 1981 - 40th Reunion -  Class of '81 has postponed their larger reunion event until next year. ALTERNATIVE GATHERING for this year: Blackwall Hitch, 5 Cameron Street, Saturday, October 2nd at 6:00 PM.  Please help us spread the word!  The 40th Reunion WILL be held next year: please save the date, October 1, 2022!   A notice via email and a full refund will be issued to all those who purchased tickets (THANK YOU!).  If you have any questions, kindly email Dallyn Duggan at duggan.washington@gmail.com.
- From Dallyn Duggan and Sue Rushkowski
FHHS Class of 1985 - 35th (+1) Reunion - Class of '85 will meet on Saturday, October 2nd at Daniel O'Connell's Irish Restaurant & Bar on King Street in Old Town Alexandria.  It is the former Bullfeathers Restaurant.  Lance Davis and the committee have reserved the O'Sullivan Room upstairs, along with the adjoining outdoor patio.  Appetizers will be provided by the organizing committee, but small donations at the door will be appreciated to offset costs.  Drinks & food orders will help the committee meet the food & beverage minimum.  Class of '85 will also meet at Fort Hunt Park on Sunday October 3rd for the All-Class Picnic - see you reunion weekend!  
---
Has your email address changed since registering? Having trouble logging into the site?
If you know your password, simply login as you did before, (using your old email address). Once logged in, you can update your Login ID with your new email address by visiting the "Edit Contact Info" page under your MEMBER FUNCTIONS in the left-side navigation.
FHHSAA site notifications have bounced back from more than 400 members' email addresses. Please make sure your info is current and, if prompted upon logging in, follow the instructions to reestablish verification of functioning email address.
---

Please help us locate missing classmates!
---
To Fort Hunt High School alumni, faculty and staff, family members, and friends:
Although our beloved high school is renamed and repurposed, FHHS will exist forever in our hearts and minds. We represent our old alma mater through our communal thoughts and memories; collectively reconstructing an institution stronger than the physical structure could ever be.
Our high school was only in existence for a mere 22 years. Twenty-two. Amazing. Years. Our parents and faculty--indeed, our whole community--produced an outstanding collection of entrepreneurs and leaders among our graduates and we continue that course, today, through our children and grandchildren.
Sadly, our school's alumni membership will shrink with time, but we hope that our achievements will not be forgotten. By welcoming family and friends of FHHS as members of our Association, we enable our legacy to live on through those who share our vision. In particular, community programs and sponsorship awards that we establish and maintain might continue to grow and flourish. Indeed, the Federals' spirit will live on through this Alumni Association!
Please join me in welcoming all members who have chosen to participate in preserving the history and good name of this great school and the Mighty Federals! ~Terry
---
To family and friends of FHHS who wish to join our alumni association: in order to expedite the verification process, please have a current registered alumni or faculty member sponsor your membership by emailing, on your behalf, your name and contact information to the website administrator. Thank you!
---

Passwords are required to view certain pages in the left-side navigation links. In particular, those pages to which alumni contribute private content -- such as photo galleries and forum discussions. Registered site members must LOG IN in order to view protected pages.

Please note that the level of personal privacy is set by the individual member for his or her Alumni Profile page (please review this FAQ for more on profile privacy...)
Welcome to the Fort Hunt High School Alumni Association!
Your one-stop site for all your Federal needs!
Welcome to the Fort Hunt High School Alumni Association website! Please have a look around this site, update your contact information, check out your classmates' profiles and pictures, drop a line in the Federal Forums, and peruse fun historical facts, photos & music from our many good ol' days!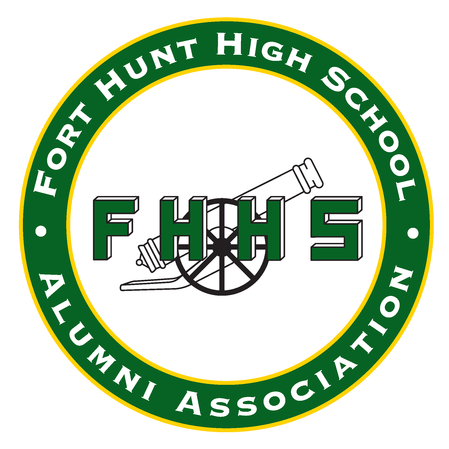 OUR MISSION
To foster, promote and maintain the spirit of Fort Hunt High School by serving as a central source of information about the school, its alumni, faculty and former students, to maintain this website (http//www.fhhs-alum.org) and to promote regular reunions of alumni, students and faculty members. In addition, the association will conduct a scholarship program to deserving, college-bound seniors at West Potomac High School and provide support to the local community.
All alumni are encouraged to register and log in. Please read the HELP / FAQs page for instructions and other important information.

TOP