FHHS Alumni Association
Alumni Years 1963 - 1988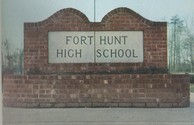 In Memory
Donald "Don" Hamlin
DECEASED FHHS FRIEND: DONALD "DON" HAMLIN, GROVETON '71
Donald "Don" Hamlin, Groveton High School, Class of 1971 died on Sunday, June 16th, 2019 at Fairfax Inova Hospital. Don's aortic artery burst several weeks ago while doing yard work. He valiantly drove himself to the emergency room at Mount Vernon Inova Hospital where he got immediate care. Unfortunately, due to the lack of blood flow to his extremities, he was sticken with a deadly infection which caused his passing after fighting for more than two weeks. Don was 65 years old.
Don's girlfriend, Lisa Marley, FHHS '73, flew in from Oklahoma to provide care and encouragement to him in the hospital. We thank her for that.
It's unusual that a graduate from another high school be included in our FHHS website, but Don deserves the honor having been such a close friend to so many Federals and participating in so many of our activities. Don volunteered for several years for our summer reunion activities and for both of our Christmas Walks and after-parties. He was friendly, energetic and always ready to help.
Don spent his early years living in Hollin Hall and made many friends there before his family moved to Belle Haven where he was in the Groveton HS school district. He also atttended Bryant Middle School with many Federals. He left this world with many, many friends.
May Don rest in peace. Don is survived by an identical twin brother, Dan, and another brother, Tony and his sister Patricia Hamlin.
*** The service for Don was held Saturday, June 29th at 11 am, at St. Aidan's Church on Riverside Road in Alexandria with a pot luck event in White Hall afterward. All of Don's friends were invited to attend and shared a dish to celebrate Don's Life. ***
- Submitted by Joe Gililland, June 18, 2019, updated July 2, 2019