FHHS Alumni Association
Alumni Years 1963 - 1988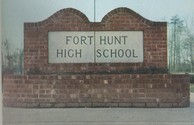 In Memory
Jack Murray
Vincent 'Jack' Murray
Music Teacher - FHHS
Vincent John "Jack" Murray, 75, a music teacher at Fort Hunt High School from 1967 to 1983 who was a folk artist, died of lung cancer Feb. 16, 2105 at his home in Washington.
Mr. Murray, who was born in Troy, N.Y., was a music graduate of the State University of New York at Potsdam and received a master's degree in music from New York University.
He taught high school music in New York before moving to Washington in 1967, when he joined the faculty of Fort Hunt High School. After retiring, he devoted his time to making folk art that employed castoff material plied to a form he called "whimsical baroque." His work was shown locally, including at the Veerhoff Gallery. Mr. Murray continued to make his art after suffering a stroke in 1992 while traveling in Greece.
He leaves no immediate survivors.
- Submited by Alice Juel Olds Beiro (FHHS '78) on Nov 20, 2015