FHHS Alumni Association
Alumni Years 1963 - 1988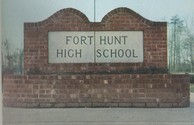 In Memory
Claude Hinson
Claude Rudolph Hinson, Sr. died May 24th, 2006 at Inova Mount Vernon Hospital of pneumonia and congestive heart failure. He died at the age of 93.
From 1965-1979 Mr. Hinson taught U.S. Government and coached golf at Fort Hunt High School.
He graduated from Clemson University in 1936 where he was a three-year letterman in football and baseball. As a baseball coach for Clemson, he still holds (as of 2006) the best winning percentage (.747) with a four year record of 58-19-2. He was the first coach to take his school to the NCAA Baseball tournament, but lost to Yale University whose first baseman was a young George Bush, Sr.
He served in World War II under General George S. Patton and later served in a Tank Battalion. He also served in in the Army in the Korean War until 1964, after which he joined the teaching staff of Fort Hunt High School.
He was decorated with a Bronze Star.
He was survived by his wife Helen, two children (one pre-deceased him) and five grandchildren.
We were fortunate to have had such accomplished and patriotic teachers and coaches while we were at Fort Hunt.