FHHS Alumni Association
Alumni Years 1963 - 1988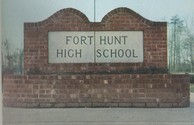 In Memory
Michael Nicholas Bakarich III - Class Of 1972
Michael Nicholas Bakarich III died in his senior year in a car accident.
- Submitted by Valerie Jean Cornelison, December 17, 2013
Further information from Dan Alderson, FHHS '72, who was a witness to the car accident. Submitted December 17, 2013:
"They were coming through the curve on Ft. Hunt Road at Alexandria Ave. and slid off the road into the telephone pole. They had passed us on Ft. Hunt Road just before the accident. Mike was in the passenger seat to of the MG. I didn't know the guy driving. He was thrown into the bushes when they hit the pole (the top was down). He crawled out of the bushes as we were standing there next to the car. Mike was still alive but died either at the hospital or on the way. It was only a couple of weeks before graduation. Bill Coleman and I had just become friends with Mike senior year. I didn't know him before then."
Submission from Mike's brother, John:
My older brother, Michael Nicholas Bakarich III, passed away just weeks before graduating from FHHS in 1972. Many of the comments shared give me very special insights into him, as I was only 12 when he died.
Given our age differences it seems only natural that such was the case. Nevertheless, I would like to share my memories of Michael, before the car crash, the night he passed away, and those since that time.
I very sincerely thank those of you who took time time to share your memories of my older brother, most of which I did not know.
- John F. Bakarich, who was in Stephen Foster Junior High 7th grade - 1972