FHHS Alumni Association
Alumni Years 1963 - 1988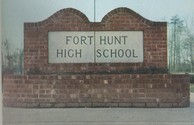 In Memory
Maurice Livingston Byrd - Class Of 1977
Deceased Alum: Maurice "Jay" Byrd, FHHS '77

Date Of Birth: May 5, 1958
Date Deceased: August 15, 2016
Age at Death: 58
Cause of Death: Cancer
Alum City: Wilmington
Alum State: NC
Alum Country: USA
Was a Veteran: No
Survived By: Daughter - Ashley Meade of Fairfax, Virginia

It is with great sadness that I announce the passing of Maurice "Jay Byrd" to his friends at Fort Hunt. Jay lost his battle with cancer on August 15, 2016 in Wilmington, NC. Jay attended Radford University where he met and later married Beverly Walker of Marion Virginia. Jay and Beverly moved to Myrtle Beach where they had 2 children, Ashley Byrd and a son, Reese Byrd, who passed away May 6, 2017. Jay's remains were scattered at the beach that he loved in Wilmington.
- Submitted by Steve Baker, FHHS '75 on April 13, 2018