FHHS Alumni Association
Alumni Years 1963 - 1988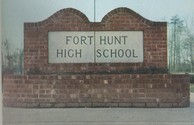 In Memory
Ralph "Paul" Desmond, Jr
Ralph Paul Desmond Jr., Navy Officer, Math Teacher
Ralph Paul Desmond Jr., 88, a retired Navy captain who taught math at Fort Hunt High School in Alexandria for 12 years until 1977, died Sept. 28 [2005] of aspiration pneumonia at The Fairfax. He had lived at the Fort Belvoir retirement community for the past 15 years and was a former resident of Alexandria.
Capt. Desmond was born in Huntington, Calif., and graduated from the U.S. Naval Academy in the Class of 1940. He was a World War II veteran, and as a career naval officer served in the Mediterranean on the aircraft carrier USS Ranger. He also commanded three ships, the USS Ammen, the USS Mullany and the USS Mount Katmai. Capt. Desmond taught at the Naval Academy from 1953 to 1955, and he worked in Japan for the Military Assistance Advisory Group from 1958 to 1960.
After his last tour of duty at the Pentagon from 1961 to 1965, he retired from the Navy and began teaching high school math.
He was involved in Class of 1940 reunions and was on the welcoming committee and council at The Fairfax.
Survivors include his wife of more than 60 years, Luly Desmond of Fort Belvoir; three children, Nancy Peterson of Boston, Anne Oliver of Brevard, N.C., and Donald Desmond of Holbrook, Mass.; five grandchildren; three stepgrandchildren; and 14 great-grandchildren.
---
Source: The Washington Post archives