FHHS Alumni Association
Alumni Years 1963 - 1988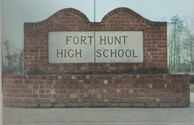 Welcome to the Fort Hunt High School Alumni Association!
Your one-stop site for all your Federal needs!
Welcome to the Fort Hunt High School Alumni Association website! Please have a look around this site, update your contact information, check out your classmates' profiles and pictures, drop a line in the Federal Forums, and peruse fun historical facts, photos & music from our many good ol' days!
OUR MISSION
To foster, promote and maintain the spirit of Fort Hunt High School by serving as a central source of information about the school, its alumni, faculty and former students, to maintain this website (http//www.fhhs-alum.org) and to promote regular reunions of alumni, students and faculty members. In addition, the association will conduct a scholarship program to deserving, college-bound seniors at West Potomac High School and provide support to the local community.
All alumni are encouraged to register and log in. Please read the HELP / FAQs page for instructions and other important information. Many pages on this website are still "under construction". Please bear with us as we add and streamline the content on these pages. To that end, your suggestions are welcome HERE. Please let me know if you enjoy writing or editing and wish to contribute to this website! I will graciously accept all help with keeping it interesting and professional. ~Terry Kinder (Alers), '79
Click the Play button (>) below to hear the Federals' fight song performed by the Fort Hunt Marching Band, as recorded by Mr. Joe Neigh and later digitized by Sharon Fitzgerald Weisner for Celia FlorCruz.
What happened to the "Hits of 1963-1985"
Playlist
music player?
"Sadly on July 1, 2013, the record labels required us to shut down the original Playlist service..."
If you would like to hear FHHS Band recordings from the award winning 1972 Vienna competition, click the
play button
in the player linked here:

TOP